Introduction:
Berries are nature's candy with a burst of sweetness and a plethora of benefits. From improving cognitive health to preventing cancer and lowering blood pressure, these vibrant fruits are a powerhouse of nutrients and antioxidants. Incorporating berries into an anti-inflammatory lifestyle can help protect your body from disease and promote overall well-being.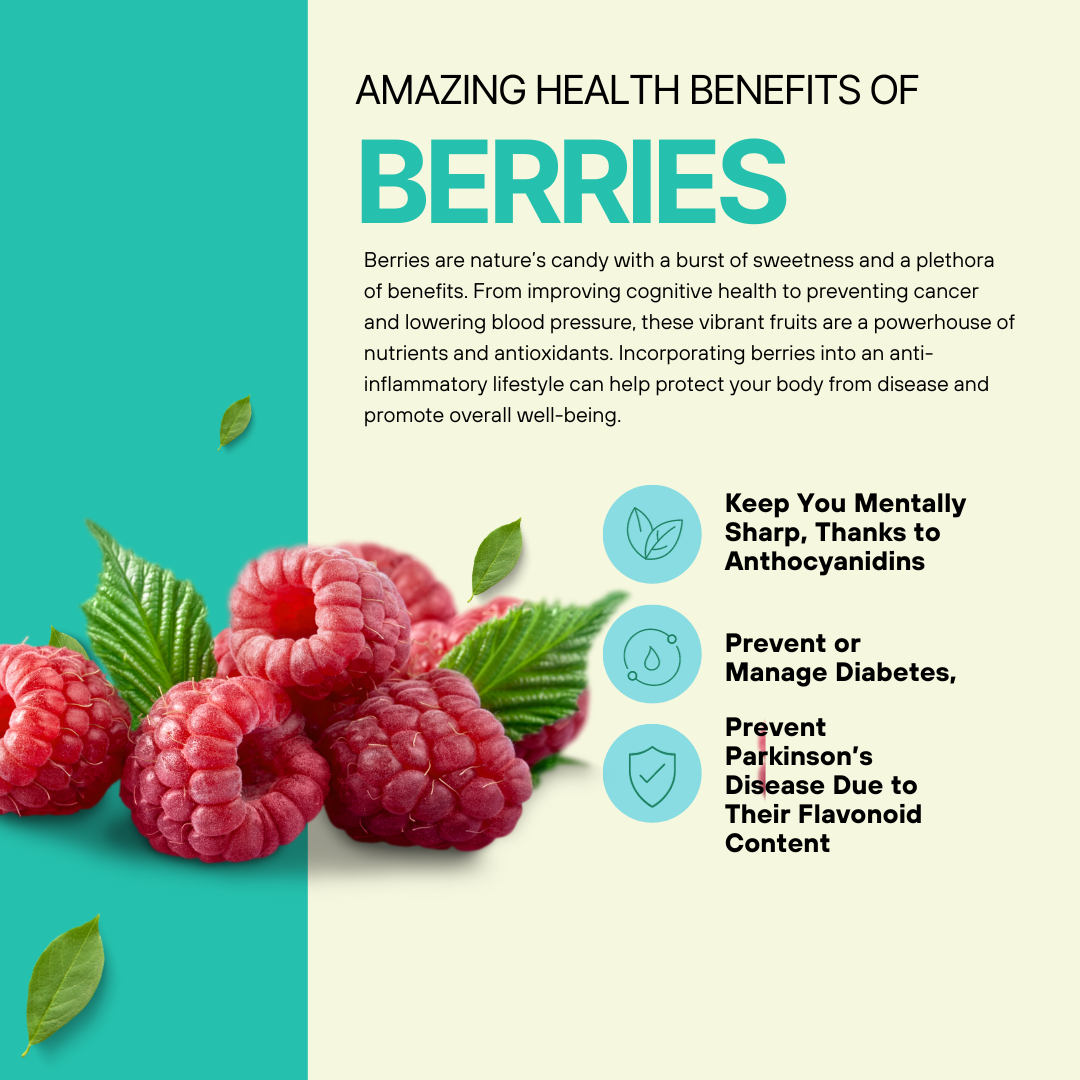 With that said, here are 6 Natural Benefits of Berries
Berries are not only nature's candy, but they also offer a multitude of benefits that can greatly contribute to your overall well-being. These vibrant fruits are packed with essential nutrients and powerful antioxidants that can have a positive impact on various aspects of your health. Here is a more detailed explanation of the advantages of incorporating berries into your diet:

1.

Keep You Mentally Sharp, Thanks to Anthocyanidins
Thanks to Anthocyanidins: Anthocyanidins, which are naturally occurring pigments responsible for the vibrant colors of berries, have been found to enhance cognitive function and help keep your mind sharp. These compounds have been linked to improved memory, focus, and overall brain health.
2.

Prevent or Manage Diabetes
Berries are an excellent choice for individuals looking to prevent or manage diabetes. They have a low glycemic index, meaning they cause a slower rise in blood sugar levels compared to other high-sugar fruits. Additionally, berries are high in dietary fiber, which can help regulate blood sugar levels and improve insulin sensitivity.
3.

Prevent Parkinson's Disease Due to Their Flavonoid Content
Flavonoids, a group of plant compounds present in berries, have been associated with a reduced risk of developing Parkinson's disease. These powerful antioxidants help protect the cells in the brain from oxidative stress and inflammation, which are key factors in the development of neurodegenerative diseases.
4.
Reduce Inflammation
Chronic inflammation is a common underlying factor in various health conditions, including heart disease, diabetes, and certain types of cancer. Berries contain natural compounds that possess anti-inflammatory properties, helping to reduce inflammation in the body. Regular consumption of berries can contribute to improved overall health and a lower risk of chronic diseases.
5.
Prevent Heart Disease
Berries are heart-healthy fruits that can help reduce the risk of heart disease. The rich array of nutrients and antioxidants present in berries, such as vitamin C, anthocyanins, and flavonoids, can help lower blood pressure, improve cholesterol levels, and reduce oxidative stress—all of which are important factors in maintaining a healthy cardiovascular system.
6.
Maintain or Lose Weight
If you're looking to maintain or lose weight, berries are an excellent addition to your diet. They are low in calories but high in fiber, which can help you feel full and satisfied while consuming fewer calories. The fiber content also aids in digestion and supports a healthy gut microbiome, which is essential for weight management and overall digestive health.
Incorporating berries into your daily diet can bring about numerous health benefits. Whether you enjoy them fresh, frozen, or in various culinary creations, these delicious fruits can support your mental sharpness, help prevent diabetes and neurodegenerative diseases like Parkinson's, reduce inflammation, promote heart health, and assist with weight management. So go ahead and indulge in nature's candy while nourishing your body with these nutritious powerhouses!